Estimated reading time: 13 minutes
Is it a dream of yours to redecorate your house to give it the look you like? Adding perfect wall art will do just that, transforming your home into the same environment you enjoy spending time in. Hey hey, don't confuse wall art with murals or graffiti; I won't make you do the tedious job of painting or applying murals directly on your walls, or ceiling, nor do I mean to cover them with graffiti.
What I suggest is to hang canvases, framed prints, paintings, or any other art pieces on your house walls, the very things we describe as wall art. However, nothing compares to the beauty, the marvels of photography add to a house.
I also understand that choosing wall art can be quite exhausting and time-consuming. But you're not alone! Let's face it: creating symmetry between art pieces and your space can be a daunting task as you will have to pick such artwork that can go well with your room's theme, color scheme, as well as your own sense of style and personality.
In this Ultimate Guide to Choosing the Perfect Wall Art for Your Home, I run through a few key points that will help you in your choice.
How to Choose the Right Size?
Yes, size does matter! If you add framed prints or canvas prints in your attempt to decorate your room perfectly, you'll have to choose the right size. After all, you don't want your art for the wall just hanging there but to pull the entire space together. A too small wall art or a too large wall art will both espouse as if something is out of place in your room.
Moreover, you won't be able to enjoy your wall art, especially in the case of nature photographs, if they are of the wrong size. Imagine a 2m large print hung on the wall of your 1.5m long living room, how bad it will look and how could you even enjoy that print.
Cover 60% to 75% of Wall Space
So, whenever you choose wall art, focus on filling about ⅔ to ¾ area of your wall. Follow the same proportions as when hanging a print above a piece of furniture and pick a work ⅔ to ¾ smaller than the furniture. For example, a work to be hung above a headboard of 125 cm wide should be about 80 to 100 cm wide.
Don't Have Room Measurements?
It's safer to go bigger when in doubt: If you're purchasing a print without measurements, you should go for the bigger size taking into account the size limits of your room as your primary objective of hanging an artwork on your wall is to make it stand out and add to your room's beauty – a smaller print will not serve this purpose.
Landscape or Portrait?
When determining the orientation of your wall art, take into account the shape of the targeted wall space. If you want to hang framed images on the vertical space available between two windows, buy photographs having portrait orientation. They will make the space feel more spacious and open. Similarly, if you want an art piece hung on the wide blank wall space over your headboard or dining table, choose landscape, or horizontal images covering 60% to 75% of the wall space to make your art piece stand out.
What Theme to Choose?
Again, choosing the right theme from a wide variety of available wall art themes is mind-numbing for many homeowners. However, if you're fond of an artist, photographer, painter, or even designer, your problem is partially sorted out as you'll have to choose from the works of a single person. But make sure to choose an art piece that won't damage your walls. You can read a great overview about your possible options on the page of Redfin featuring the ideas of other artists and me.
Pro Tip: Choose Nature Photographs
Let me give a pro tip: it would be ideal to have nature photographs in your home since nothing can beat the beauty of nature. Also, nothing attracts humans more than nature does. So, not only you but your family members and guests will also admire your wall art.
Healing Power
Another more important benefit of having nature photography in your home is that it serves as a cool shortcut to your mental health, and happiness. When you look at nature photos, your brain has the same reaction as when you are in nature. And who can deny the fact that nature is the best healer? That's the reason why serious mental illness risks are higher in cities than in rural areas.
If you're living in a major city, which can be better described as a concrete jungle, you should employ this cool shortcut and choose nature photographs for wall art to prevent anxiety, depression, or any other kind of psychological distress.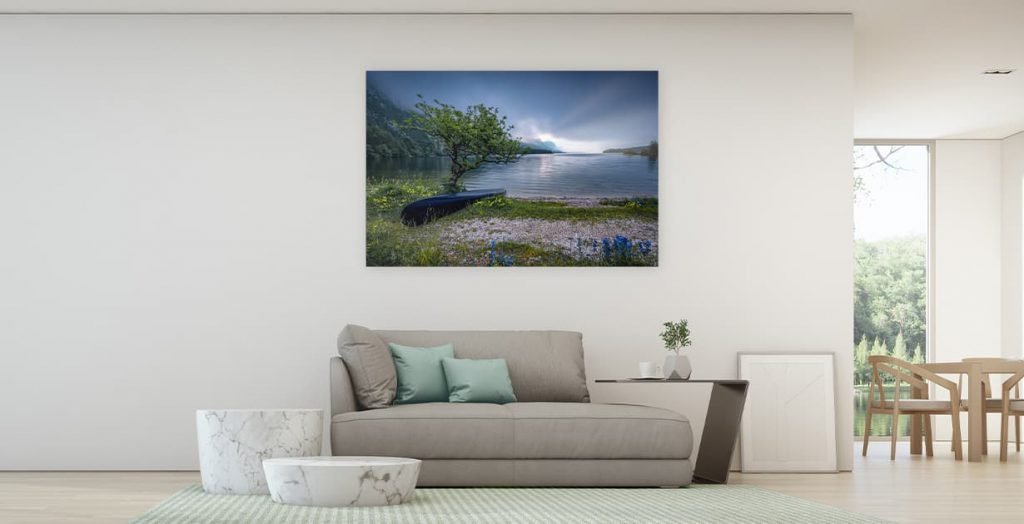 Want the Modern Touch?
If you seek my opinion, I would highly recommend choosing landscape, and animal photography from the broad genre of nature photography, to make you feel more connected to mother nature. You can also go for aerial images taken by drones. This type of photography that involves modern gadgets, is very popular nowadays and serves as a nice feast to our eyes owing to the fact that we cannot see such picturesque scenery with our bare eyes that drone captures.
What Color Fits Your Home?
Colors have power, and color psychology plays a key role in home decor or more specifically wall art. We are influenced by colors; they change our perception and make us feel a certain way even if we're not always conscious of it. It is, therefore, important to learn a few basic things about colors to choose perfect wall art for your home.
Colors Influence Mood
Several studies have found that colors around us have a strong impact on our moods and they trigger arousal states and emotions. For example, warm colors like orange, red, and yellow evoke higher arousal emotions (love, anger, happiness, passion, etc) while cool colors, like green, blue, and purple are connected with feelings like sadness, calmness, and indifference.
Colors Change Perception of Temperature
You may have noticed that the color tone of the environment sometimes makes you feel warm or cold. This is happening just with you. Colors change everyone's perception of temperature. That's why they are categorized as warm and cool colors.
When you are cold, your lips and skin around your eyes turn blue, and blue is a cool color representing winter, rain, ice, water, wind, and freshness. Likewise, warm colors like yellow or red produce images like sun, summer, or fire in your mind, and make you feel warmer.
Colors Alter Your Decisions
Emotions strongly influence our decisions, and colors have a strong impact on our emotions. So we can say that colors influence our decisions by exciting emotions in us. Blue and green make us feel relaxed and help in making wiser decisions.
Colors Influence Your Performance
The warm tone of red and orange colors is said to kick in the survival mode, increasing speed and force but reducing creativity and patience. On the other hand, cool colors like blue and green have an opposing calming effect on us. Such colors encourage relaxation and creativity.
Colors Influence You Physiologically
Besides affecting our emotional and psychological state, colors also affect our bodies. Warm colors are associated with heightened physiological alertness, so they activate our nervous system, increase our heart rate and flow of adrenaline in our body.
Contrarily, cool colors like green, and blue are relaxing and cause positive physiological changes. In presence of these colors, we are calmed, our respiration slows down, and our blood pressure goes down. That's the reason why surgeons wear green or blue dresses.
Your Taste and Choice
Regardless of all the color theory and what experts say about color combinations, what matters the most in garnering the benefits of colors mentioned above is your personal taste and choice. You should always go for the colors you like to see around. Only then, you'll be able to draw the benefits.
For example, you may have memories attached to a particular color, which may not go well with your interior in light of the color theory or expert opinion, but you feel good looking at it. You should ignore everything and go for what makes you happy.
Choosing The Right Medium
After selecting the artworks you like, and determining their size in view of your space, here comes the next step of choosing the right medium. Being a professional, I would advise you to choose the right material for printing your photographs, and frames to give a modern and contemporary finish to your wall art.
To help you out with this step of choosing the right medium, let me inform you what medium I prefer in light of my experience. The list below consists of those finishes which I have found the best after experimenting with almost every kind of medium available in the market. Owing to their quality, I have included them in my service library, which I offer to my valued customers in collaboration with the best fine art printing studio in the country.
1. Mounted in Floater Frame
I start with one of the most exclusive finishes, the floater box frame. In this frame your beautiful new artwork has a twist – it has a thin space in the edges. By creating a space around the print we let the photograph float by leaving about a 1 cm gap from the edge of the frame. I prefer the floater box frame with a white or black frame with semi-glossy print finish, and I recommend the same to my customers.
2. Metal Board Print
Another best option to display art on walls is to use a metal board for mounting. This hanging method is perfect for nature photographs as the metal boards I offer for unframed pictures are flat that creates a floating effect if mounted at a fixed distance from the wall. For these aluminum composite boards, I prefer semi-glossy print finishes.
3. Acrylic Print
Acrylic print is a modern way of displaying photography, and other artwork. Since acrylic can create a 3D effect by keeping a beam of light reflected within its surfaces, it's considered best for displaying nature photos.
4. Canvas Art Print
One of the most traditional ways of showcasing art. It's a print canvas stretched over a frame that can be hung straight on the wall. Typically, the canvas print is stapled behind the frame, then covered with a tightening agent for a better fit. Having a classic look of oil painting, the print on canvas enhances the beauty of traditional rooms. I'm offering my canvas wall art photographs on matte material.
In addition to these four finishes that I have found best for the wall art, I also offer paper print and canvas print. Please note that these prints are not finishes, if you select these options, you have to take care of framing. I have made these two types of prints a part of my services after thorough research and my experience with European clients as well as the durability of these prints and the quality look they give to your photos.
+1 Print only – Fine Art Paper (delivered in a roll)
A paper print is the most used medium for getting a physical copy of a photograph. Currently I recommend semi-glossy papers for all of my photographs for two reasons: this material strengthens contrast and is less vulnerable than matte.
For getting outstanding semi-glossy prints, I have been laying my trust in one of the outstanding products of the world-renowned paper manufacturing company, Hahnemühle. This allows you to enjoy the sensation of luxurious cotton paper and the calm sensation of a traditional baryta board. Because of its fine and smooth surface texture coated with barium sulfate, Baryta gloss gives photo prints an expressive character. Also, it has a warm white tone, with no added optical brighteners, and gives the feel and touch of genuine art paper.
+2 Print only – Canvas (delivered in a roll)
The canvas print is simply a print on a canvas without stretching. For its finishing, you can either choose matte or semi-glossy finishes. Since the print is not stretched on a frame, you have to take care of the framing, which can be done in any of the framing services.
For these matte canvases, I use a beautiful canvas made by Hahnemühle which is developed from mixed cotton-polyester fabric and matt inkjet coating. With a creamy white tone, this canvas does not contain any optical brighteners. Also, this premium quality canvas is age-resistant and produces distinctive print results, especially for nature photographs and portraits. The colors are rich and vibrant, the depth of black is impressive, and the details are reproduced well.
Let Me Help You Choosing a Wall Art
I can assist you with your quest for having perfect wall art in your home by offering a quality collection of nature and landscape photographs. My collection features the two main categories of my prints: Open Edition and Limited Edition Arts.
Open Edition Arts
These prints are not limited in number and can be ordered anytime without any limitations, and without having any doubts about the quality of the art.
Limited Edition Arts
This category includes limited editions of more exclusive and limited in number prints. They all come with authentication and certification from the Print Lab signed by me. Since they're of exclusive quality, their price is relatively higher. The Limited Editions feature three types of images: Limited of 50; Limited of 20; and Limited of 3.
Get Quality Art at Your Doorstep
To create an eye-catching wall art in your home, you can choose images of your choice from my Open Edition and Limited Edition collection. I offer free shipping in Hungary and other countries in Europe. So if you fall in this continent, just order to have the artwork of your choice delivered at your doorsteps. Right now I'm not offering shipping outside of Europe, so I request the interested people from other continents to please contact me, and I'll see how I can manage their orders.
Summa
Let's simplify the process of choosing the perfect wall art for your home by wrapping up all the steps involved:
Consider the size of the art and the wall where will you place your image
Check the available prints – it starts with finding out what you like. If you like to complicate things you can also pay attention to color harmony with your home.
Consider the medium – the material for printing your images, frames, and finishes.
Order, wait and enjoy – all orders are unique, uniquely proofed, and produced. So allow me around 2 weeks to complete your order and bring you what you really adore.
Take care of the art so you can enjoy it in the long run. To help you out, I've came up with another guide on how to take care of art properly.
Did you find my points useful? Let me know on my social media channels.